What's Intuitive Eating?
Loaded question. It looks different for each person. It is NOT a diet in any way. So, what does it mean exactly? Well, the authors of Intuitive Eating state this definition:
"Intuitive Eating is a dynamic mind-body integration of instinct, emotion, and rational thought. It is a personal process of honoring your health by paying attention to the messages of your body and meeting your physical and emotional needs. It is an inner journey of discovery that puts you front and center; you are the expert of your own body."
I read that the first time and was like…WTF?  What if I crave only desserts? Or what if I gain weight and everything goes to shit? Interesting you should ask! Yes, WTF. No, you won't only crave dessert (but you will still crave them if you like desserts and that's FINE). And who knows what will happen to your weight! It might go up, down, or stay the same.
Health At Every Size
Health At Every Size (HAES) is a philosophy that supports individuals of all sizes to find what health looks like for them. As a clinician, I focus on the goals of each person including behaviors, self-care, and nutrition. We redirect the focus away from weight or weight loss as a means of health. You cannot simply look at someone and know how healthy or unhealthy they are based on their size. Together we look at everything that contributes to health. It's like an umbrella that covers everything from sleep to self-care, to movement. 
"The only way to solve the weight problem is to stop making weight a problem—to stop judging ourselves and others by our size. Weight is not an effective measure of attractiveness, moral character, or health. The real enemy is weight stigma, for it is the stigmatization and fear of fat that causes the damage and deflects attention from true threats to our health and well-being." 
― Linda Bacon, Health at Every Size
Hi, I'm Steph! I'm a registered dietitian and Intuitive Eating coach and I help people create food freedom and stop waging war on their bodies
I believe life is best lived with:
dessert, friends, dogs with human names (shout out to Bill + Ted),
and The Office.
And sushi.
And rap music, yoga, and rollerblading.
And food freedom.
I think life is best lived without some things too.
Like guilt and shame and fear.
And Diet Culture - and all of the ways that it makes us feel not good enough about who we are and how we're nourished and what we look like.
I do my best to live my life without those things because I know exactly how it feels to be controlled by them. It sucks. It really, really sucks.
Somewhere along the way, I decided that my life was too awesome to waste it following arbitrary food rules and focusing on the size of my jeans. 
I've got more important things to do, and I need that brain space for enjoying my life!
You do too.
Let's talk. I'll share my dessert if you want 🙂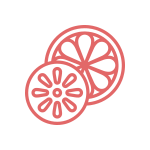 INTUITIVE EATING COACHING
Learn how to form a relationship of trust in caring for your body, and nourish yourself with compassion, freedom, and gratitude.
SUPER SUPPORTED
If you've been diagnosed with, or suspect that you're struggling with an eating disorder, I can support that journey towards healing and I'm here to help.
SPEAKING
Hire me to speak about intuitive eating and body kindness at your school, wellness space, office, book club, best friend's wedding - whatever!
No one can tell YOU what is going to nourish your body the best. You are your best dietitian/nutritionist. No diet, "lifestyle", or specific way of eating will truly satisfy you because your body's internal cues are your expert guide.

Honoring your cravings looks different every day, even hour to hour! To honor your hunger, satisfaction, and fullness is a form of self-care. 
#CLOSEAF
I take really close up pictures of food. Because it's funny. I challenge you to your best guess.
WANNA TALK?
Send me a message!
WOULD LOVE TO HEAR FROM YOU
Need support or guidance related to food freedom, body image, self-care, or joyful movement? Have questions about Intuitive Eating? Looking to better understand your body cues? Want to talk about your favorite episode of The Office? I'm here and I'd love to chat!
PS. Dead serious about The Office